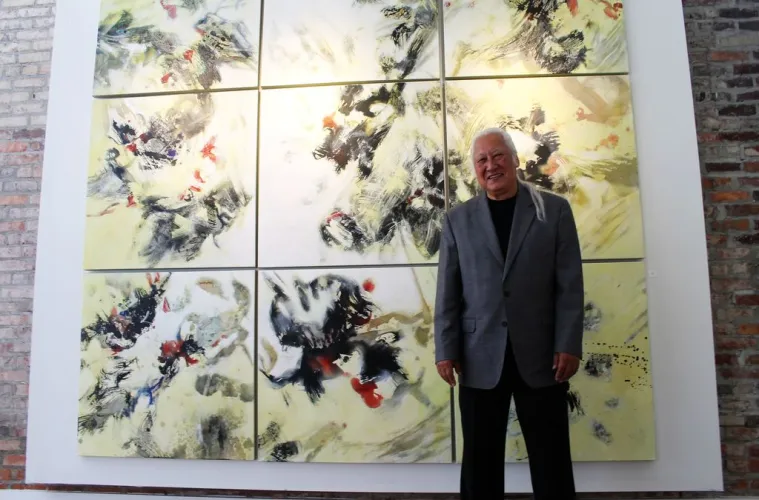 His thin, long white hair, tied casually in the back, hangs lightly over shoulders that slouch slightly as he walks. His face, hardened by time, wrinkles faintly around the corners of his mouth and eyes whenever he smiles. Now in his early-seventies, he walks and talks with the patience of an older generation.
Between his early years as a child actor in Japan to graduating from the Otis Art Institute in Los Angeles and becoming the internationally-recognized artist that he is today, it's needless to say Tadashi has seen and been through a lot before moving to Denver.
While he gained much of his popularity in L.A., he says a sting of coincidences that involved an ex-girlfriend and a restaurant in Parker, CO are what led him to move here. After travelling the world showcasing his art, Tadashi now spends his days in Denver doing what he loves: painting and connecting with other artists.
He is a spiritual man. He tells stories about his success – about big houses, fast cars, fancy dinners and night clubs – but he doesn't brag about it. In fact, he says the more money he made, the more peace of mind he lost. He felt his life had become too materialistic. So, after months of being unable to sleep, Tadashi began to spend days at a time meditating in the mountains.
That was when he found inspiration for his most recent projects. In the twilight of his life, Tadashi became fascinated with idea of life after death. This essentially became the theme for his final projects: Dreaming of Life in the Heaven, Rebirth and Reincarnation. Through these themes, Tadashi explores spirituality and attempts to capture it in his paintings.
His most recent exhibit is By Way of L.A., a collaborative demonstration crafted by Blake Brown, curator of Artwork Network in Denver's art district on Santa Fe. The exhibit, on display until Aug. 31, features Tadashi's work, alongside the work of two other Los Angeles-based artists and long-time friends of Tadashi: Michael Moon and Maxwellvision.
The result is a beautiful spiritual exploration of texture, line and color. If one thing is certain, it's that Tadashi's wisdom and spirituality transcend well through his artwork. His work is abstract – it is reminiscent of the spirituality found everywhere and in everything – yet remains natural and organic.
The most accurate review of Tadashi's work is American art critic Peter Frank's following words:
"What is remarkable in Hayakawa's art is its visual manifestation of a state of being that is neither organic nor mechanical, neither benign nor fearsome, neither human nor alien. Hayakawa's vision is none of these things, and, yet, the images he creates are all of them at once. These are images we see countless times in our lifetimes, not least in artworks – and yet they not only come to us freshly conceived and minted… they come to us as if we have never seen them before."
If you're still not convinced, come see for yourself. Tadashi has accepted many of the gallery's invitations to paint live in the space. He's a very approachable person and always seems delighted to discuss art with anyone. Even those who do not consider themselves artists will have something to learn from him.
Tadashi says he lives a much more humble life in Denver now. Living on a retired income and the occasional sold painting, he says he is happy to be doing what he loves and that he has regained his peace of mind.
Looking back, Tadashi admits to being reluctant to pursue a career in the fine arts, but it was the unwavering support of his family, friends and teachers that ultimately ignited his passion.
"Still, I regret none of it," Tadashi says, "I am appreciative of everything. Life is funny; it's like it was meant to be."
By Way of L.A. opened on July 5 and the artwork will remain on display until Aug. 31, 2012. The Artwork Network gallery is located on the corner of Santa Fe Dr. and 9th Ave.